In addition to performing herself on stage Maja found a passion and purpose in sharing her knowledge and experience with others, either as a teacher, an outside eye or as a choreographer.
---

Choreographic Work
After years of performing on stage Maja got more and more interested in creating herself.
Since 2010 she choreographed several solo, duo and trio pieces, such as:
Poem, 2010 Vienna
Wandlung – Revisiting Susanne Linke, 2010 Vienna
Hold, 2012 Linz
Passion Play, 2012 Mettmach
Sunset – Sunrise, 2015 Vienna
Cross the Line, 2017 Germany/Netherlands
Maja was choreographic assistant of Gisela E. Heredia (tanz.coop collective) in 2014 and 2015.
In 2016 Maja has made her debut as a director of a full-length contemporary circus performance Identity Taken. A piece about loosing and finding identity, about wearing and changing masks. A piece about dreams.
---

Working with Competitive Ballroom Dancers
Since Maja started Latin dancing herself it always has been her interest to explore how these different dance forms can affect each other.
2012 she initiated the pedagogical research project Latin Meets Contemporary where she investigated how competitive ballroom dancers could benefit from different aspects of contemporary dance training.
Since then she is giving courses and classes for different institutions from Dancesport, such as:
Dance Sport School, Vienna
TSK Juventus, Vienna
TSK Schwarz-Weiß, Vienna
---

Working with Kids
Maja's aim in working children is to pass information in a fun and playful way, to teach a solid technical foundation and also leave enough space for the kids to discover their own creative resources.
Maja is and was teaching for different institutions, such as:
Studio an der Wien, Vienna
Ballettratten, Vienna
Kinderspektakel (Intensive workshops to explore circus arts and dance)
various elementary schools 
---
Off stage projects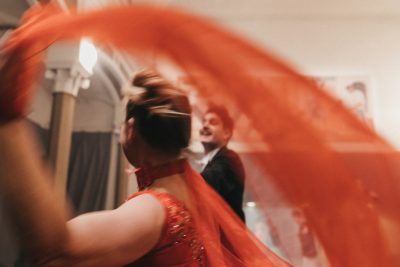 Just turning in circles is not yet a ballroom dance. Three women and three men from different generations therefore want to try new steps and dare to step on the slick floor of the free labor market. Hopefully they will learn leaps and turns, kicks and twists that this Plan B requires through competence analysis, job application training and goal-oriented continuing education quickstep by step ...
Read More
A piece about loosing and finding identity, about wearing and changing masks. A piece about dreams ...
Read More